How Much Does It Cost To Install a New AC Unit?
October 27, 2022
Whether you are thinking about buying a new one or replacing your failing air conditioner, it is important to learn which cooling system type you need and how much it will cost to install it. 
Installing a new air conditioning system will usually cost you around $6,000 to $8,000, with many factors that help determine the price. For example, the unit type, size, energy efficiency rating, and even the layout of your home are all factors to help calculate an accurate cost for replacing your AC unit. 
Factors Affecting Air Conditioner Installation Costs
Initial Evaluation
Pre-installation evaluation will depend on the air conditioner you want to install and the arrangement of your house. Consult an HVAC professional service to assess your home so you can find the air conditioner options that best suit your household's needs. (Remember, every purchase at newACunit.com includes an evaluation of your home prior to installation – to make sure that you order the perfect equipment for your home.)
With the help of the HVAC pro, you can determine what system size should be installed and how well your house is insulated. They can assess how well your rooms can retain heat, then make recommendations for which size system has the capacity to cool the areas in your house.
Initial evaluation by HVAC professionals can help you foresee risks and setbacks that could have proven costly later on. A site visit is essential for the success of your AC installation because that is where the HVAC specialists will confirm that factors such as home size, unit type, etc. are a good fit for your home and budget.
Labor
Central air conditioning systems can be complicated and require a professional to install. While relying on professional installation from a licensed contractor increases overall AC replacement costs, it is required to maintain the manufacturer warranties (and when you shop with newacunit.com – all warranties (parts and workmanship) are valid!)
The overall cost of installation may vary depending on the type of system, electrical, thermostat, ductwork, and insulation needs. 
Luckily, when you shop with newacunit.com – we've pre-negotiated your installation fees. So the price you see, is the price you pay!
Pick a new AC unit online that best fits your home, and based on HVAC experts' professional recommendations. Typically, central air conditioning systems fall under two categories – split or package units.
Package System

– A Split System is made up of two units: an outside unit referred to as the condenser that you normally see on the side of your home, and an inside unit usually referred to as the air handler that is normally located in a closet or sometimes in the attic.

Split System

– A Packaged System contains both the condenser and the air handler in one package. These units normally sit on the roof but sometimes are located on the ground.
Air Conditioning Costs According to Size
The "size" of an air conditioning system does not necessarily mean the unit's physical dimensions. It usually indicates its power or cooling capacity, usually measured in BTUs or British Thermal Units. This measurement system usually converts 12,000 BTU to one ton. Please refer below for the corresponding average costs according to size:
1.5-ton goes for around $3,500 to $4,500

2-ton goes for around $3,100 to $5,100

3-ton goes for around $4,400 to $6,400

4-ton goes for around $5,200 to $7,200

5-ton goes for around $7,400 to $9,800

14 SEER goes for around $6,000 to $8,000

16 SEER goes for around $7,000 to $9,000

18 SEER goes for around $9,000 to $12,000

20 SEER starts at $12,000 and increases from there.
A good estimate is 1 ton for every 400 to 500 square feet of area in your house.
How to Lower Costs When Installing a New AC Unit
Shop With Us
To get the best bang out of your buck, shop with NewACUnit.com because we cut out the middleman and go directly to the manufacturers for you. With our help, you can compare which air conditioning unit fits your budget. In fact, we offer the same AC systems as other contractors but at a lower cost (up to 50%) and with more benefits! Contact us today or shop online for an accurate quote in minutes. The process only involves four simple steps.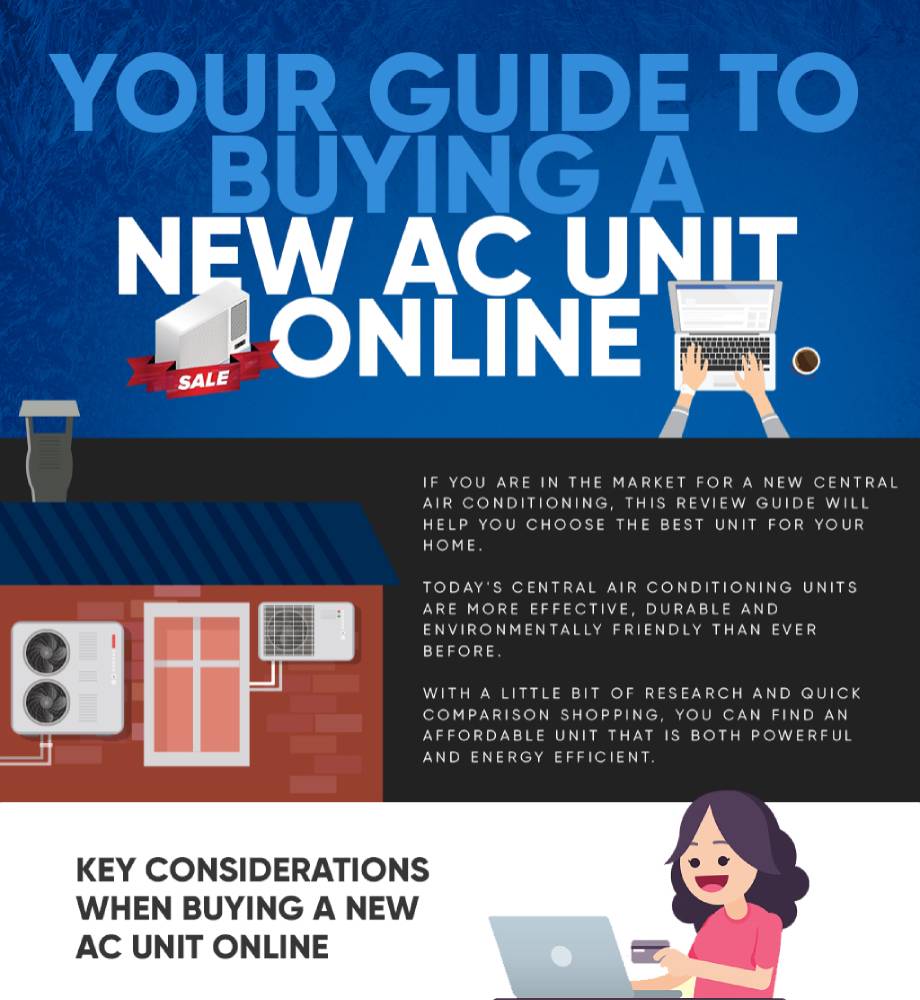 Click Here For Full Size
Off-Season Installation
Plan your air conditioner shopping and installation accordingly by avoiding the rush seasons. Instead, try to shop around during Fall or Spring when the cooling system market is not that busy. 
Rebates
In relation to installing air conditioning units during off-months, some companies and manufacturers offer rebates during these periods. You can also research state or local organizations that offer incentives for installing energy-efficiency units.